AI Uncovered 5 Fascinating Insights About This Year's Best Picture Oscar Nominees
2020 was a year of unprecedented change, but one thing helped us get through it — entertainment! Whether it was seeking comfort in old favorites or binging on something new, universally, our life was improved by launching into the world of story. With the loss of many theatrical releases, the Oscars look a little different this year. However, there's still a lot to celebrate.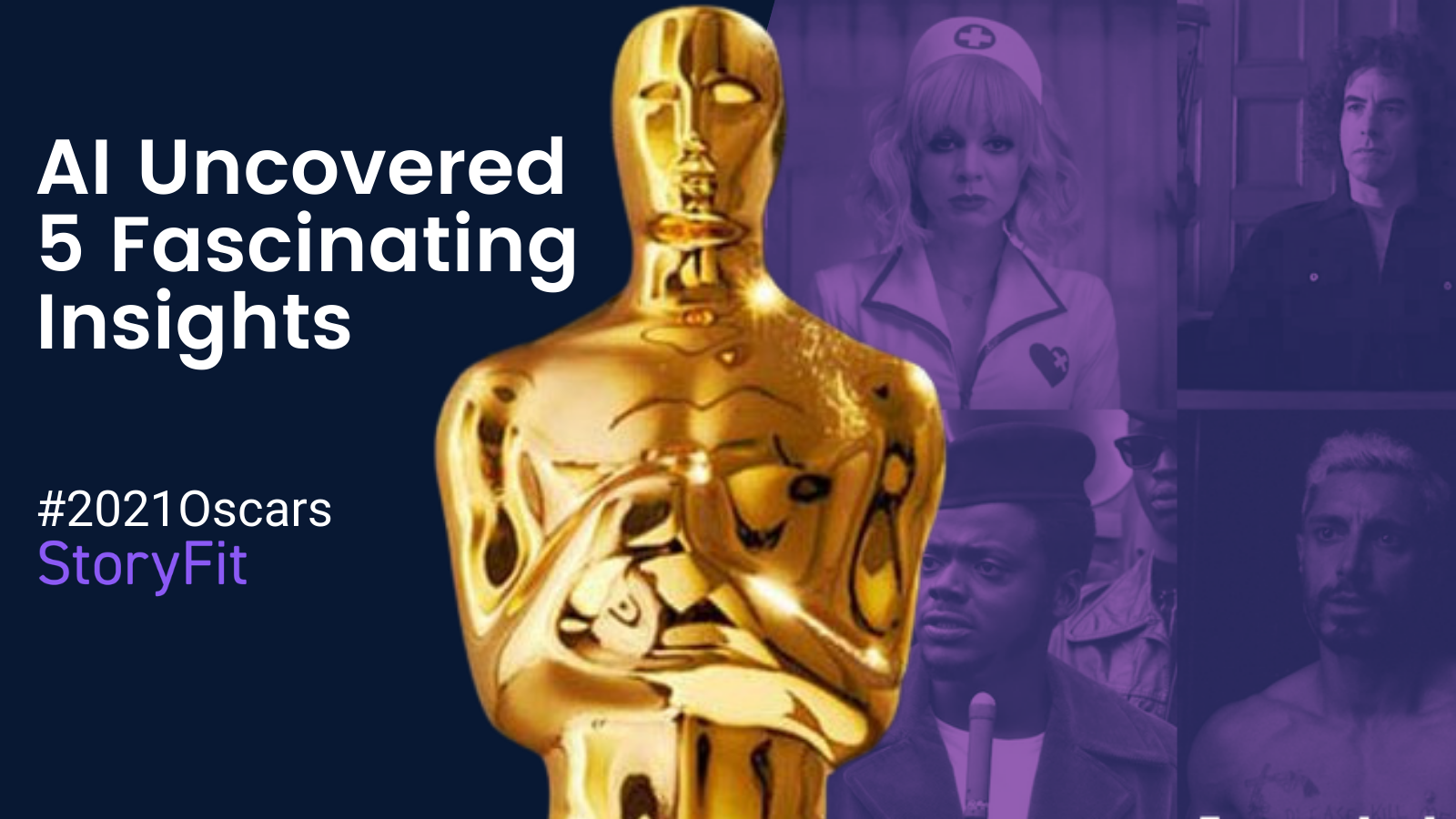 We dove into the data to uncover interesting trends, facts, and tidbits about this year's nominees. Here are our top 5 insights:
#1 Less violence this year compared to Best Picture nominees in the past decade
Extreme physical pain and fighting are often outside of our day-to-day lives, and therefore it can be an escapist element in an entertaining film. However, 2020 was a challenging and troubling year globally, and there were infamous instances of violence that we worked through culturally. Maybe the Academy had this in mind when they selected the nominees for Best Picture, who on average had measurably less violence than best picture nominees in the past decade.
StoryFit's technology uncovered, on average, less physical fighting, less physical pain, and less physical violence in this year's Best Picture nominees compared to the Best Picture nominees from the past decade (except for 2011, whose movies included The Help and The Artist).
However, it's important to note that the 2021 nominees which had the most violence — Judas and the Black Messiah and The Trial of the Chicago 7 — are tackling socio-political issues and not unjustified violence.
#2 Family, perseverance, responsibility, enjoyable, new life, and character growth were prominent concepts
Hunker down with your family for a year during a global pandemic, and you might find yourself falling a little bit more in love with them (or you might have solidified your plans to move out of the house and never return).
The nominees with a prominent family story element don't necessarily have it easy; families in stories like Minari or Nomadland are going through intense conflict and growth, but at the end of the day, their family bonds still captivate us.
Our tech measured 100,000+ elements in this year's Best Picture nominees and discovered that the most prominent story elements were Family, Perseverance, Responsibility, New Life, and Character Growth.
#3 Strong Female was a prominent concept in 4 out of 8 of the nominees
With all eyes on Hollywood's depiction of Women during the #MeToo era, it's fitting that this year's nominees include Strong Female characters. Let's face it, Carey Mulligan's role in Promising Young Woman as a socially stunted medical school dropout who's seeking to avenge the tragic death of her best friend by hoodwinking men is far removed from the measurably agreeable female characters of prior years. In fact, "Strong female" is a top story element in 4 out of the 8 Best Picture nominees this year (Nomadland, Promising Young Woman, The Father, and Minari). This is the first time in 10 years that "Strong Female" is a top story element in the Best Picture nominees, which is a sign that women's roles are changing.
#4 Higher female dialogue this year than in past years
This year's Best Picture nominees have more female dialogue than many of the previous years — and as we discussed, the story element "strong female" crept into the list of top story elements in this year's Best Picture nominees. However, we were still a bit surprised that the average amount of female dialogue for this year's Best Picture nominees was only 33% — up from 28% and 31% in 2019 and 2018.
The nominees with higher portions of female dialogue were 1) Nomadland, 2) Promising Young Woman, and 3) Minari.
#5 Mank and Judas and the Black Messiah have similar story elements to previous Oscar winners
We were curious, which of the nominees had the most similar story elements to previous year's winners? Out of this year's Best Picture nominees, Mank and Judas and the Black Messiah have the most similar story DNA to previous Best Picture winners, with prominent story elements such as "police," "law enforcement," "strong male," and "moral dilemmas."
Both stories take a step back in time; Judas confronts social issues that are as present today as they were in the 1960s, whereas Mank tells the creation story of Citizen Kane. Though it doesn't tackle such present social issues as Judas, Rosebud is still an influential part of the zeitgeist.
Could this similitude be a signal of who will win the Oscars? Join us by tuning in to ABC on Sunday, April 25 at 8 ET to find out!