What Makes For a Successful Comedy Series?
In the realm of entertainment, few genres hold as much broad appeal, and challenge, as comedy.
Comedy's ability to travel is perplexing – in certain cases, television shows are able to appeal to a wide variety of audiences and humor preferences, regardless of cultural influence and temperament.
So why is this the case? Is there a specific set of elements that make for a successful comedy?
StoryFit analyzed a series of international hits to help answer these questions and determine the story elements that leave viewers continuously returning for more.
By comparing the pilot episodes of award-winning comedic success stories like Schitt's Creek (CA), The Good Place (US), and Fleabag (UK), trends and factors that contribute to long-term audience resonance appear.
Reception at Home is a Strong Indicator of Success
It might seem obvious that a successful comedy abroad will have been well-received by critics and audiences in its home country, but these are some of the strongest indicators of international success.
Reviews on film/TV aggregators are a comprehensive summary of how critics and audiences perceived the content after it was released. High reviews suggest that the media resonates with a diverse range of viewers and possesses qualities like compelling storytelling, strong character development, or other production values.
Schitt's Creek, The Good Place, and Fleabag (all of which are considered to be international hits) performed highly on IMDb and Rotten Tomatoes, receiving positive reviews from critics and audiences alike.
Memorable Comedies Develop a Signature Tone
Not all comedy is alike, and that's kind of the point. Comedy is a diverse and multifaceted genre, with a range of styles from slapstick to dry wit or satirical commentary to physical humor.
The variation in comedic content is crucial for generating expansive interest and despite what viewers may think, does not hinder global success. While there are important cultural distinctions in what specific audiences find funny in a piece of content, the strength of the comedic tone present, rather than the style of comedy is the biggest predictor of success. A successful comedy, no matter the style, will have a signature comedic tone that carries through the series.
StoryFit analyzed these three incredibly successful international comedies through our AI story intelligence platform to uncover each story's signature comedic tone by measuring each series underlying humor metrics.
As you can see, all three shows have a signature tone that is well above the genre average for these comedic elements. You might be wondering, but where do these averages come from?
StoryFit's proprietary AI engine analyzes billions of these audience points to reveal story insights in the pre-production stages of a script. These narrative and viewership elements are then compared to thousands of other scripts within our database to see where a particular story matches up against its primary competitors (in this case, other comedy shows).
You can learn more about this process here.
Schitt's Creek is most notably characterized by its incorporation of Zany humor, highly correlated to narrative elements in the pilot like Cheerful and Feel-Good.
Character attributes like Incompetence Abounds and Exaggerated Performance also propel this comedy metric well above the genre norm, contributing to the underlying comedy tones of Dry Humor and Parady.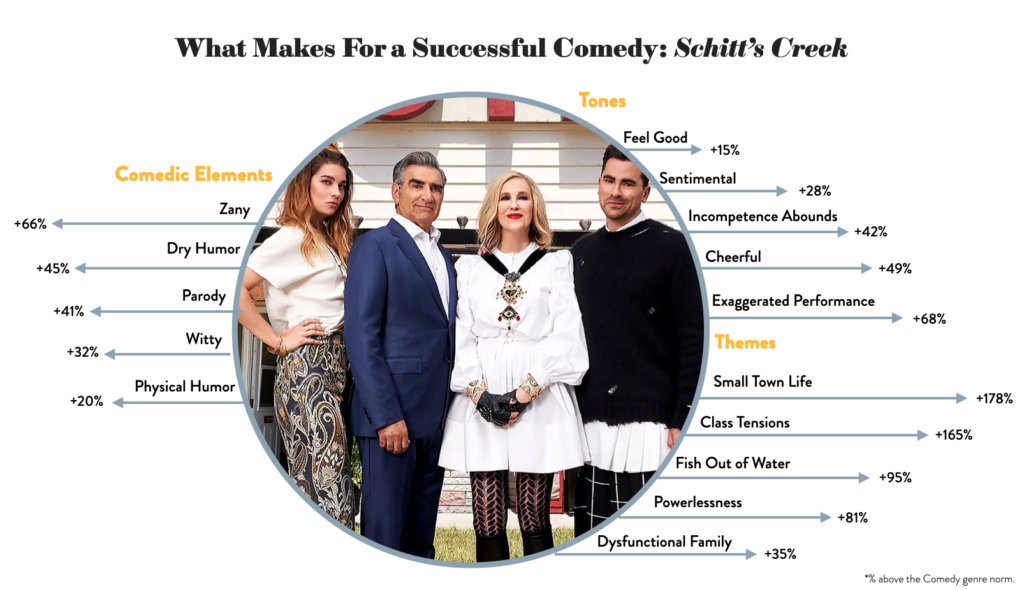 The Absurdism of the pilot episode of The Good Place is depicted through Eleanor's newfound surroundings, with Cheerful and Whimsical elements driving up the average. Underlying comedic tones like Satire and Silly speak to the character's dialogue and the many conversations surrounding Eleanor's newfound status.
The high amount of Sex, Profanity, and Alcohol in Fleabag helps drive the Irreverent humor throughout and places it +128% above the comedy average for the genre. Incorporating comedy with heavy emotional and social themes surrounding grief and loss makes Dark and Dry Humor successful comedic elements of the show.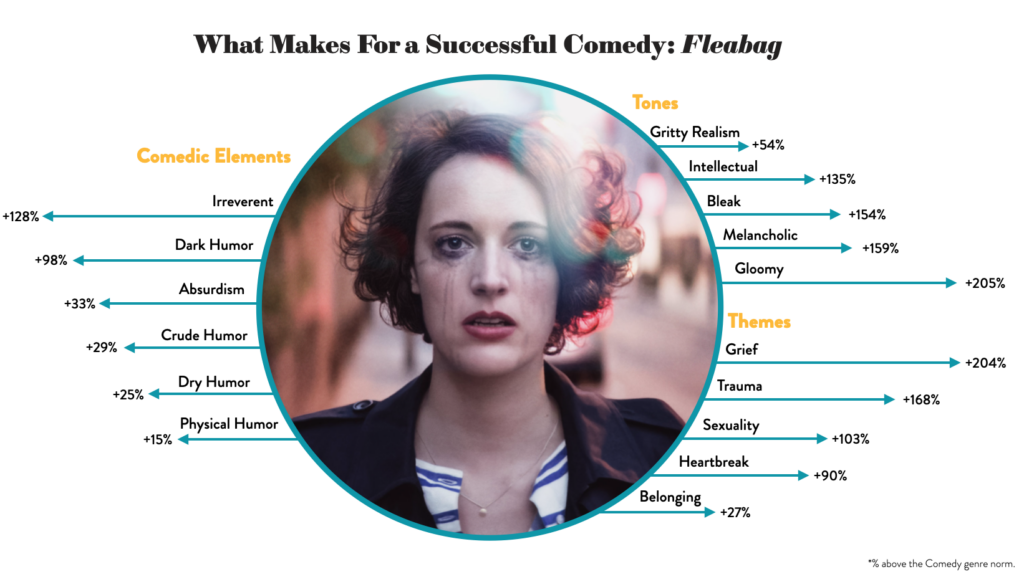 Success Isn't Defined by One Character Network Style
A comedic narrative dialogue is necessary for any well-respected comedy, but a strong cast of characters, or an elaborate character network can be the difference between a successful first season and a long-running series.
StoryFit's Character Network is a visual map of a character's interactions and centrality to the overall story. The thickness of the lines represents the quantity of interactions in a pilot episode.
Centrality measures the percentage of shared interactions with other characters in the story; the more a character interacts with other characters, the higher their centrality will be.
While all three shows have complex character networks, they differ in both style and theme. The Schitt's Creek pilot displays a traditional ensemble structure, with an expansive cast, but three substantial leads make up a majority of the dialogue interactions.
The Good Place has one primary protagonist (Eleanor), with ensemble support to carry the storyline. Fleabag is almost entirely protagonist-driven, with the main character speaking 50% of the entire episode's dialogue and exhibiting 100% centrality with the rest of the cast.
As you can see from the visual graphics above, comedic success isn't defined by only one type of character network style.
Strong Characters are the Foundation of Good Stories
A comedic narrative is only as strong as the characters that deliver the punchlines to keep audiences laughing.
Strong characters can make or break a comedy series and international successes typically feature complex, multi-dimensional leads that audiences can relate to and empathize with.
At StoryFit, we like to say strong characters are the foundation of good stories. We measure the strength of a character through their character score – a combination of traits that register at the impact and prominent level within the genre (top 10% and 25%).
Character scores are an overall indicator of a character's potential as they measure the strong and defining character traits an audience will recognize. A higher score is always better, as this character assessment correlates to success.
All three comedy leads exhibit strong traits that are characteristic of anti-heroes.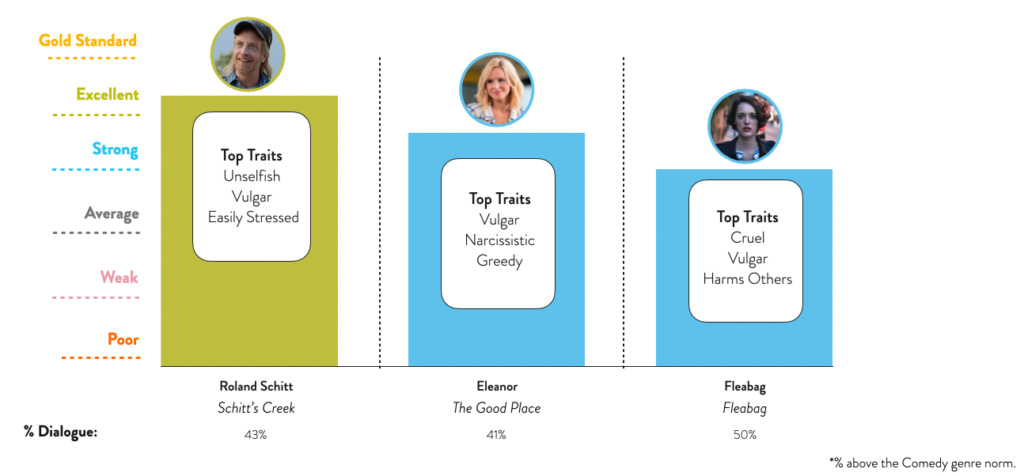 Roland, Eleanor, and Fleabag all have contrasting positive and negative traits that speak to their anti-hero natures. They are all highly Vulgar, Narcissistic, Egotistic, Extraverted, Creative, and Bold, a combination that fuels their comedic narrative journeys. 
Multi-Dimensional Leads Steal Hearts
When we break down their individual traits in contrast to their shared characteristics, we can see the high level of multi-dimensionality present, which helps to win the hearts of a diverse audience demographic.
Roland, as the mayor, deeply Respects Authority and Follows Orders, but is often Easily Stressed Out, and is as Unselfish as he is Egotistic. Eleanor is a Social, Likable, Clever, and Brave character who is equally Greedy, Selfish, and Harmful towards others, giving her a Complex yet Interesting makeup.
Fleabag, like Eleanor, is highly Likable, in equal measure, Greedy, Selfish, Brutal, and Cruel, but much more neurotic in her perpetually Stressed and Anxious personality. These conflicting traits are what make Fleabag so compelling to audiences.
Conclusion
In the ever-evolving landscape of comedy, it seems daunting to predict which will reach critical acclaim and international success.
However, when examining some of the most successful comedic hits of the past decade, we can observe several key elements that contribute to widespread global resonance. Establishing a signature comedic tone, developing an expansive character network style, and creating strong and multidimensional characters with a balance of traits are surefire ways to anticipate success.
An irresistible series won't have the exact same formula as something seen before it, but a captivating international success likely lies in these elements.