Take a Look at First Look
If you're deciding on whether or not to produce a script, you're probably wondering:
What are the story's biggest strengths and alternatively, the biggest risks?
How good are the characters and the story's narrative?
What are the most accurate comps for the story?
And who is the target audience and will it be a hit, or a flop?
StoryFit's First Look Insights analysis applies AI story intelligence to screenplays in order to answer your most urgent questions.
Visualize the narrative scene-by-scene to see if it's consistently entertaining. Identify the key story elements for its genre and audience and if they need a stronger presence in the story.
Get to really know your characters, including an in-depth look into their traits, motives, strengths and weaknesses.
Compare closely related comparable titles to analyze their budget, critical, and box-office performance. Know your audience's demographics and psychographics and what aspects will engage and sell them on your story.
Make smart decisions early, with StoryFit.
Let's take a deeper-dive into what this report looks like using the pilot script of one of the most popular and critically-acclaimed shows to air, Game of Thrones.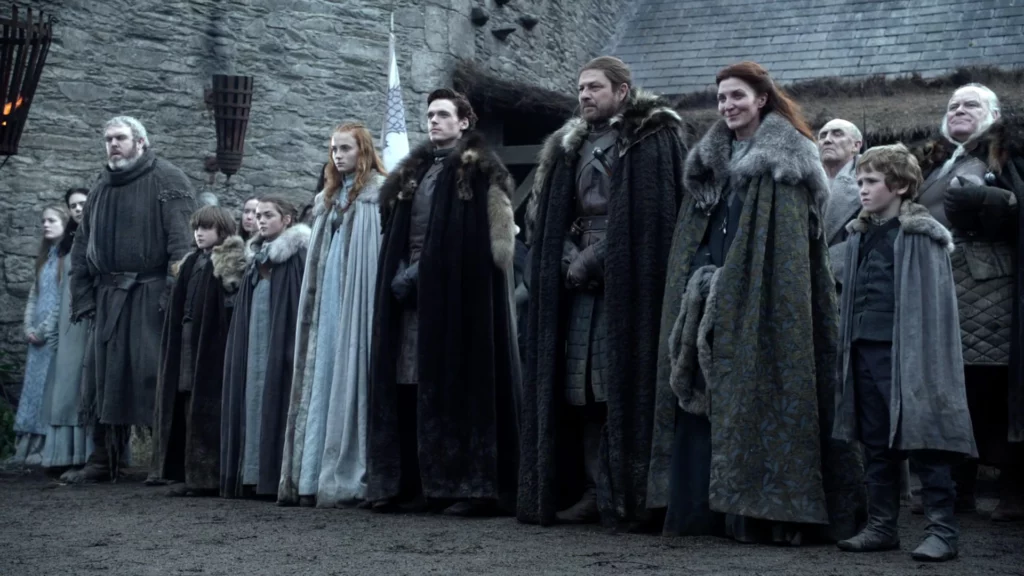 While it engages in genre-bending to some extent, Game of Thrones' most prominent genres are Drama/Fantasy and is most similar to the pilot shows of The Wheel of Time, Black Snails, The Borgias, and Vikings.
Comp Insights
Number of seasons, IMBD rating, and the two most prominent shared story elements with Game of Thrones are included in the comp analysis section of First Look.
Narrative Insights
Narrative elements that impact audiences are measured and compared. The metrics below are all prominent viewership superpowers in Game of Thrones.
Viewership superpowers are themes, tones, and elements that are strong in your story and highly correlated to success.
For example, the story element Avenging Family is 4.5x more likely to drive viewership than the average story metric for the TV Drama-Fantasy genre.
Judging by the Unique Story Elements, the Game of Thrones pilot is driven by its fully established fantasy world, with deeply compelling emotional & story stakes. Story elements that are most correlated to viewership in the genre (Fantastical, Gore, War) are marked with a star.
In addition to narrative strengths, a First Look Insights Report also identifies potential concerns.
For the Game of Thrones pilot, Suspenseful atmospheric elements like Eerie, Creepy, and Unsettling are lower than the genre average, which weakens the mystical dark tone of the series, thereby placing less pressure on the characters and in turn, the audience.
StoryFit's AI platform also analyzes the emotional intensity of a story, which gauges the strength of an audience's response to the emotional or physical conflict within a script.
Scenes that spike above the solid line are more likely to be perceived by viewers as intense, whereas scenes that spike above the dotted line (pink section) are significantly more emotionally intense to audiences.
As we can see in the pilot, the episode begins & ends on a strong note, which engages and retains the audience's attention up until the very end, when Jaime's surprising action concludes the episode on a similarly evocative cliffhanger.
Character Insights
As avid GoT watchers will recall, the show is defined by its intricately connected story worlds and expansive character network.
StoryFit's character networking graphic provides a visual map of the characters' interactions and centrality to the overall story. The thickness of the lines represents the quality of interaction.
Centrality refers to the percentage of shared interactions with other characters in the story. The more a character interacts with other characters, the higher their centrality.
The pilot of GoT has 3 connected components, which is greater than the genre average of 1. Having more components is positively correlated to viewership in the genre, which grants the pilot enough complexity to attract a range of viewers. Ned and Jon Stark are positioned at the forefront of the narrative due to their higher level of centrality.
GoT boasts a large cast; the pilot includes 34 total characters and 2 main characters (the genre norm is 23 total/3 main).
In Drama-Fantasies, more total characters and fewer major characters correlate to higher viewership. While it can be challenging to develop so many characters at once, GoT knocks it out of the park with an expansive list of well-developed main and secondary characters, making it a signature for the series.
StoryFit's character scores are a compilation of their traits that register at the impact and prominent level (top 10% and 25% of their respective genre).
These scores are an overall indication of a character's potential, as it measures the strong and defining traits that an audience will recognize. A higher score is always better, as this character assessment correlates to the success of a series.
When examining Ned in particular, he registers as Excellent in comparison to the other comp leads.
Audience Insights
StoryFit can analyze a script's audience potential by demographic breakdown compared against the genre audience utilizing social engagement metrics.
This analysis includes a full age & gender composition so creators can get a realistic idea of what their story's ideal audience looks like and how their script compares against the audience average for the intended genre.
Based on GoT's story strengths and comp titles, 2 distinct demographic targets with 5 key sub-groups emerge.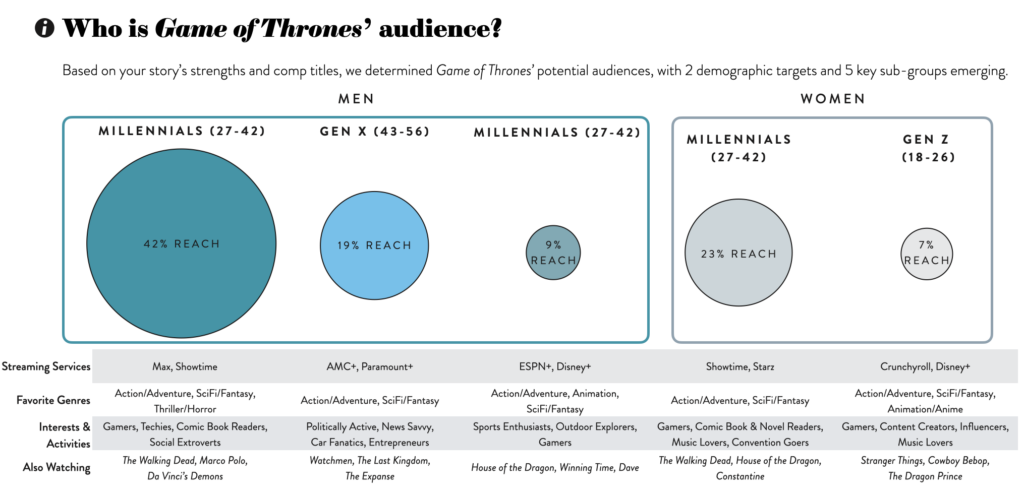 Audience affinity is a key tool for producers and creators who are looking to both raise awareness and drive consideration for their script among groups that have demonstrated a shared love for that kind of story. It is also the leading indicator of what is distinctive or unique for your target audience.
Affinity measures the degree to which a specific audience is interested in something relative to the American general adult population. For example, potential GoT viewers are 8x more likely to watch House of Dragon compared to the average American adult.

Key Take-Aways
These insights are then summarized in a key take-aways analysis to help creators make the most out of their narrative, character, audience and comp data.
First Look Insights allows you to quickly read between the lines of your script to take the guesswork out of greenlighting.
Why Wait? Get started with StoryFit today.