Boosting ROI: The StoryFit Solution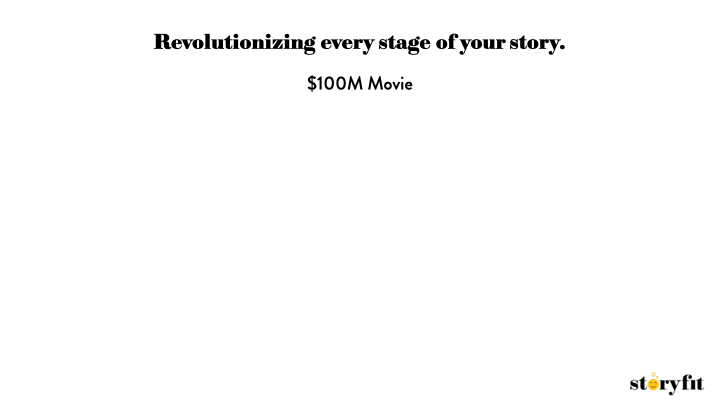 Consider the development cycle of a typical film script at a major Hollywood studio.
For an original screenplay that is acquired on spec, the development process often takes several years and a multitude of rewrites, both pre and post acquisition.
No entertainment executive or creator is immune to the struggles often encountered in "development hell" in the industry parlance.
For a big-name IP or $100+ million budgeted script, this could amount to several million dollars over the course of 2-10 years.
Here's the breakdown of the WGA's screenplay minimums by media type: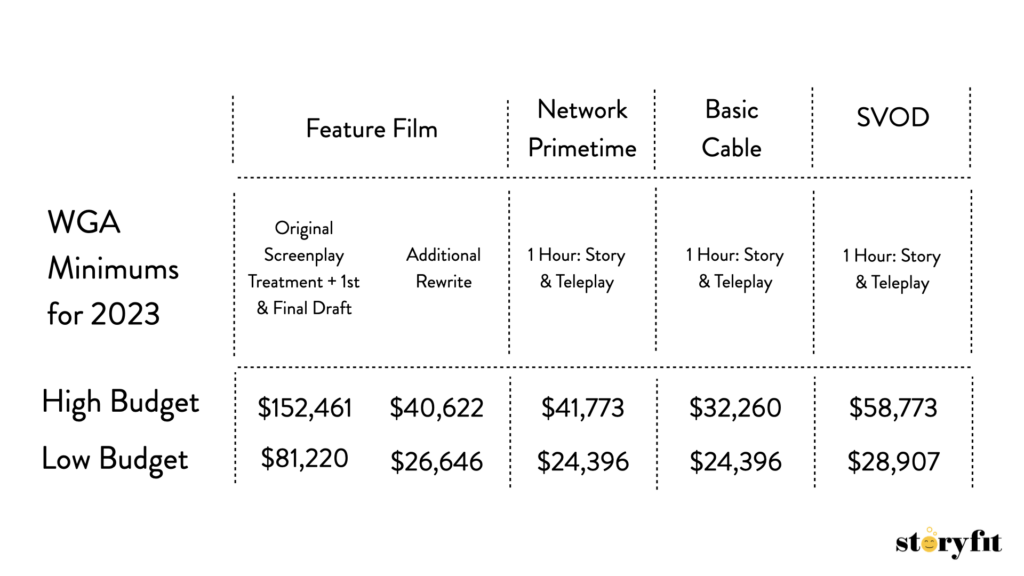 Previously produced writers (or re-writers) can increase these numbers 2-10X.
If a studio switches writers at any point in the process, that adds additional time and money.
Some scripts are shaped and reshaped for years, never clearing the hurdles needed to move into production. Instead, they are relegated to the shelf, along with hundreds or thousands of other scripts that failed to achieve their full potential.
The longer it takes to ready a script for greenlight, the higher the cost and the more risk to the story of it missing its window of peak cultural zeitgeist.
This is where StoryFit comes in.
StoryFit reduces these issues by identifying problematic story components at the earliest stage of the process. By providing actionable intelligence to creatives and executives when they need it most, StoryFit's solution reduces development costs by over 25%, effectively saving hundreds of thousands of dollars and years of valuable time.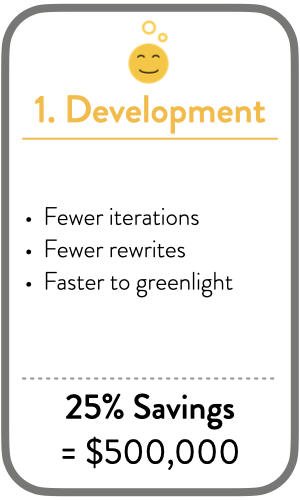 Our story intelligence can be applied to any part of the development and production process, working to ensure that your story is progressing forward and all elements of your narrative, characters, scenes, and tones are reaching the optimal audience resonance for global success.
StoryFit delivers insights at the script stage, when the most impactful changes can be made for the least investment, resulting in fewer iterations and writer revisions overall. This ensures you tell your most effective, efficient, and highest quality story, getting your script to greenlight sooner than ever before.
Case Example:
We worked with a distributor who wanted to accelerate their script development on a feature film challenged by pacing, story elements likely to trigger a higher MPAA rating, and an audience that skewed older, when younger audiences were their target.
Using the benefits of StoryFit's insights, the studio was able to achieve a greenlight draft within a single rewrite and polish, saving over $100,000 in additional rewrites that may have been required without StoryFit.
StoryFit identified pacing and tone recommendations, revealed an opportunity for a more likable and less vulgar lead character, and helped the client see a clear path to appeasing the core audience while attracting an adjacent younger audience.
The film went on to be a success, resulting in a final budget under $15 million with a performance over $100M at the global box office.
Curious what your ROI savings could be?
Production/Post-Production:
StoryFit's Solution = up to $10,000,000 or 10% Savings
Getting any film off the ground is a highly iterative, time consuming process. Receiving the greenlight is a major win across the board for any entertainment executive, but those well versed in the industry know there is a long road ahead before production.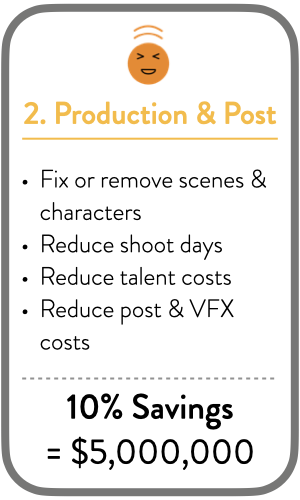 Production and post-production costs make up the vast majority of any budget. Studios spend between 40-100+ days shooting a film or episodic series, and depending on how well internal problems are mitigated, another year (or longer) on post-production editing and assembly (sound, visual effects, music, etc.).
StoryFit's AI intelligence identifies and targets problem elements, scenes, or characters to deliver optimal value to your story and future audience. By eliminating the waste involved in casting characters and shooting scenes that will inevitably end up on the cutting room floor, StoryFit reduces the unnecessary shoot days, editing time, talent costs, and other post-production costs that result from a problem script so you don't have to 'fix it in post'.
This can save up to 10% or more off the budget of a film or episodic series that is produced using traditional methods where valuable work is cast aside in post-production.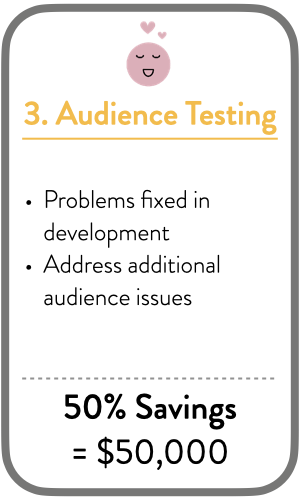 Audience Testing:
StoryFit's Solution = up to $50,000 or 50% savings
A vital, yet unpredictable stage in the post-production process, traditional testing is often a high-level, broad approach that provides audience reactions with limited detailed feedback or proposed fixes.
StoryFit provides simulated audience reactions at the script stage, helping to alleviate problem scenes and characters before they are filmed. By improving your end results to align your story strengths with audience expectations, stories test higher and come out stronger. This eliminates unnecessary reshoots and multiple rounds of editing to fix problems after the fact, in addition to reducing the need for follow-on testing.
StoryFit's hundreds of proprietary models based on millions of audience data points ensure that your story resonates as strongly as possible with your audiences. Without all the testing, you can stop stressing!
Reshoot Production:
StoryFit's Solution = up to $40,000,000 or 80% savings
Every entertainment professional knows the budget pains of reshoots. Depending on feedback from testing and other post-production results, reshoots can be the biggest hidden expenditure in making a film or series, costing upwards of an additional 10-50% of budget ($10-50,000,000 for a $100 million dollar film), not to mention a push back to your scheduled release date.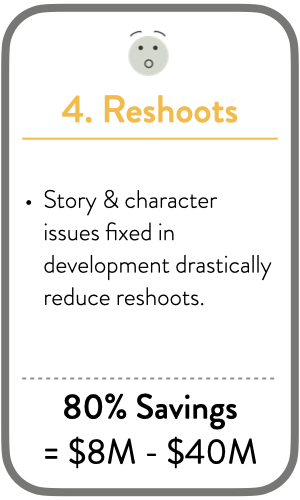 StoryFit helps you remove the surprise audience 'gotchas' that result in having to write new scenes, wrangle talent schedules, or pull off location availability needed for a timely reshoot.
Since StoryFit's solutions offer story and character corrections in development, the risk of reshoots is significantly reduced. Even if some limited reshoots are still required, StoryFit will assess any newly rewritten scenes to ensure they achieve the desired audience result. The reduction or elimination of reshoots can save up to 80% in incremental costs over and above the original budget.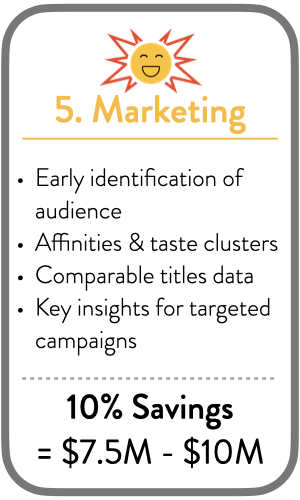 Marketing Campaign:
StoryFit's Solution = up to $7,500,000 – $10,000,000 or 10% savings
Marketing efforts are another huge expenditure for a blockbuster campaign. With substantial added costs and up to 6-12 months of advertising, production studios often need to employ multiple vendors to get the job done, not to mention the time needed to test for the right message.
StoryFit's Story Intelligence provides a number of audience-rich insights long before a frame of footage is filmed, adding significant value to the shaping of any marketing campaign.
Pre-greenlight, marketing departments will have access to StoryFit's audience demographics, affinities, and taste clusters, along with comparable titles data and the key story and character elements that will resonate with particular audiences.
We can also provide sentiment analysis for what scenes will play best with which audiences, giving marketing early insights into how to craft their trailers and build and execute targeted campaigns. Trailers and campaigns are also highly iterative to create, but as with a script, StoryFit's insights can short cut the process, saving millions of dollars and weeks of precious time.
Release-Distribution:
StoryFit's Solution = up to 20% Performance Boost = 2X Profit
The aggregation of all these benefits – from script development and production to marketing and distribution – results in better overall performance of a story resulting in substantial profitability improvement.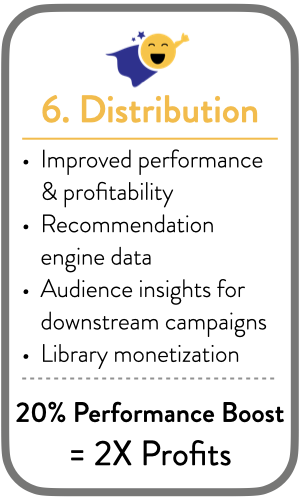 For instance, on an average $100M movie, the net aggregate benefit can be a 20% or 2X lift in performance over the content lifecycle, equating to a doubling of bottom line profitability as revenues for each primary and ancillary market increase.

We know how important your story is to you, and that makes it important to us.
Interested in making the most out of your story? Let's work together today.