NEVER Before Have We Seen This…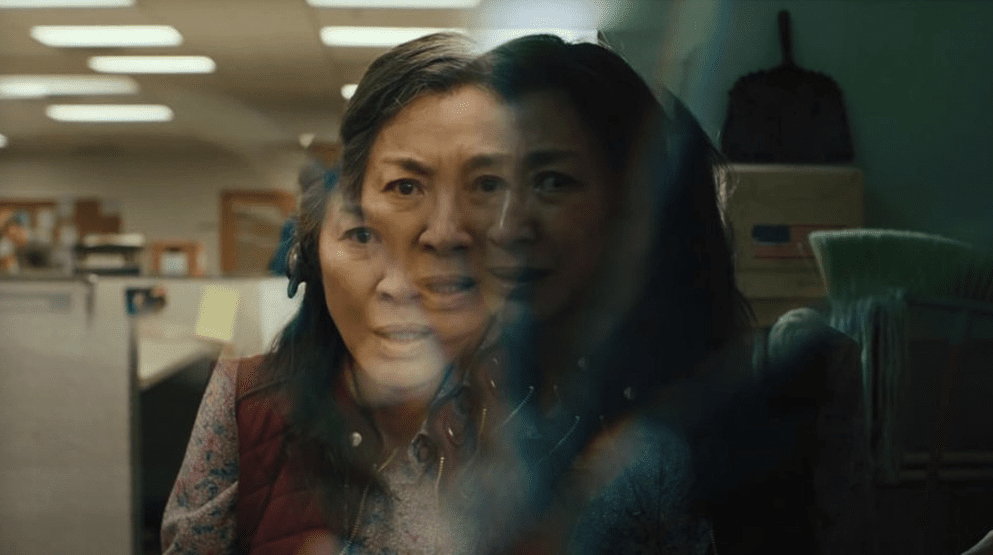 One of the greatest benefits of StoryFit's analysis is our ability to measure a script's Emotional Intensity. Our models gauge the strength of the audience's response to the emotional or physical conflict within a script on a scene-by-scene basis. For instance, a dramatic car crash generates high Emotional Intensity in a single scene, but so does a heated argument between two characters who love each other.
Our client appreciated our insights on how their script could use a few key tweaks to certain elements to yield better results. Afterward, the conversation turned to the Oscars. One of the writers, now understanding how we work, asked, "I wonder how Everything Everywhere All At Once would fare." Spoiler: the film is an action-packed, highly emotional mad dash from beginning to end.
Our brainy and creative Insights Analyst team have been working on an "explainer" campaign we will be launching in the days running up to the evening of the Academy Awards ceremony, March 12. Of course, one of the films we're looking at is Everything Everywhere All At Once.
The analyst who worked on the film has been with StoryFit from the beginning. After the Emotional Intensity chart was generated, she literally gasped.
"We've never seen this before."
Here's what she said, "In Everything Everywhere All At Once, we noticed an unprecedented amount of high emotionally intense spikes all throughout the story. The whirling, euphoric rush of devastation, awe, and overwhelming love an audience member experiences as several of Evelyn's past selves rapidly flick by is captured in this model, with this scene exceeding the boundary threshold of the chart itself!" This pivotal moment literally hits it out of the park.
The chart below compares Everything Everywhere All At Once to the well-known multi-verse blockbuster, Spider-Man: No Way Home.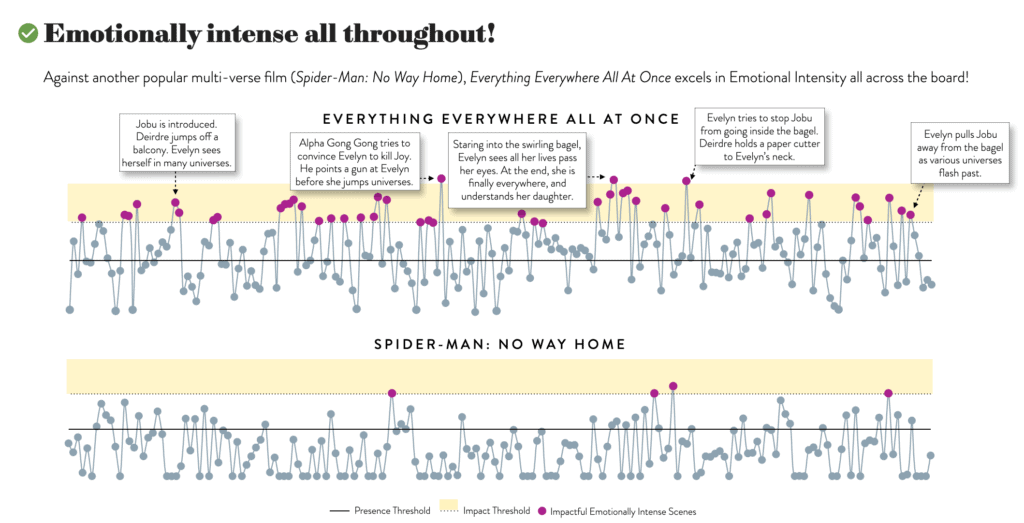 Although StoryFit is not in the business of predicting Oscars, an analysis of this exceptional film can demonstrate how it breaks the mold for every film that has come before it. The standouts are generally observable in the data. It's a credit to the power of our perceptive machine learning model for capturing the pure enchantment of the film's indelible mark on maximalist filmmaking.
When I showed this post to our analyst, she reflected on it and mentioned that there was only one other film in the company's history that came close to the same level of intensity. It was Parasite. The film that won the Oscar for Best Picture in 2020.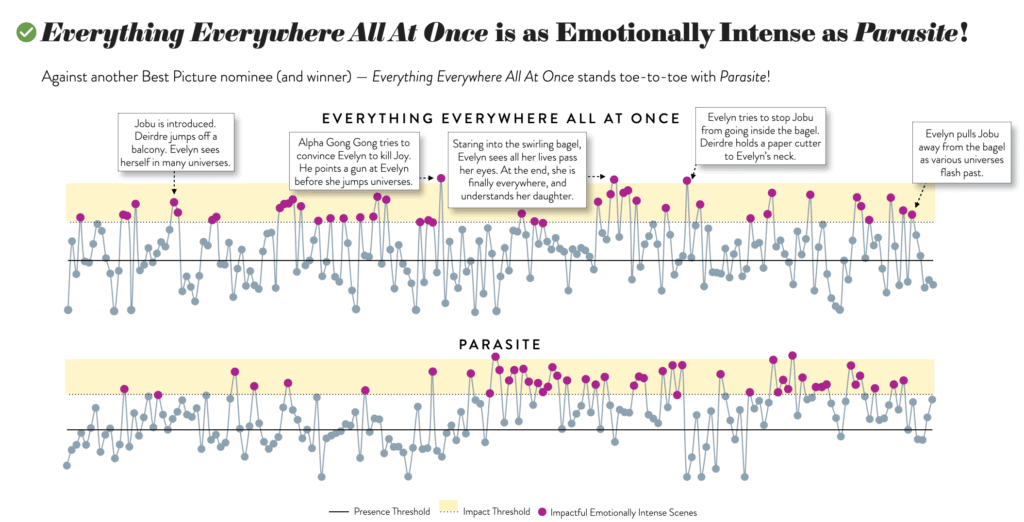 Let's see if the Academy sees what our model sees.