Parasite's Best Picture Win Is Historic for More than One Reason: an AI script analysis.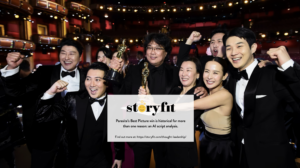 Parasite made history by becoming the first non-English-language film to win the Academy Award for Best Picture. But as our Artificial Intelligence (AI) platform discovered from analyzing Parasite's script, that's not the only thing that sets it apart from the last 20 years of Best Picture winners.
Analyzing film script with AI.
StoryFit uses machine learning (ML) and natural language processing (NLP) to analyze film scripts, transforming data into insights to improve the filmmaking process.
Here are our most interesting findings on Parasite and its fellow Best Picture nominees. (Editor's Note: We were unable to obtain the script for Once Upon a Time… in Hollywood so its data is not included in this piece.)
Parasite's gender balance.
Parasite's usage of male and female characters is virtually equal, both in the number of characters (8 male, 8 female) and the amount of dialogue they speak.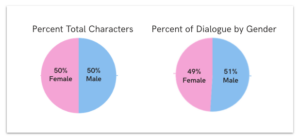 Gender balance is highly unusual among the last 20 years of Best Picture winners. In fact, only one other film featured female dialogue that was on par with male — Chicago (2002), a story that was largely set in a women's prison.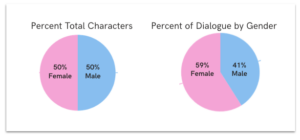 By contrast, here are the averages across the previous 20 years of Best Picture winners. The average Best Picture winner features an 80% male cast with 84% male lines of text: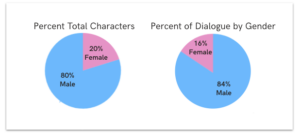 Parasite is a more intimate story than the average Best Picture.
Another area where Parasite diverged from the field is in the number of characters it features. The average winning film includes 44 characters, compared with Parasite's 18 (8 male, 8 female, 2 gender unknown), suggesting a more intimate story than the norm.
Parasite largely takes place indoors.
If you felt a sense of claustrophobia while watching Parasite, it might be because you're feeling constantly trapped in an interior scene. The film takes place 80% indoors, compared with 61% for the other Best Picture Winners.
Analyzing other nominated movies with Artificial intelligence.
1917 had an interesting emotional palette.
Our software studied the prevalence of four emotions within each Best-Picture-nominated screenplay — joy, sadness, anger, and fear — and found that 1917 delivered all four emotions.
Its most prevalent emotion was sadness (43.8%), which compared to other dramas was moderately high, followed by joy (38.8%), and had high amounts of fear (35.8%), and anger (31.8%) as compared to other dramas.
That puts it in contrast to most of this year's nominees, and the winners of the past, whose primary emotion is typically joy. Other exceptions this year include Ford v Ferrari, which also displays sadness as its primary emotion (40.6%), just edging out joy (36.8%).
1917 was also the most action-packed Best Picture nominee this year.
This probably doesn't come as a surprise, but 1917 featured the highest ratio of action to speech, at 73% action. Other films that skewed toward action were Joker (68%), winner Parasite (60%), Jojo Rabbit (62%), and Ford v Ferrari (51%).
Marriage Story was the most dialogue-driven Best Picture nominee.
Also unsurprising is the finding that Marriage Story clocked in the highest dialogue-to-action ratio at 71%, followed by Little Women (57%) and The Irishman (51%).
Half of the scenes in Joker had no lines.
Although Joker didn't have the lowest amount (1917 did), it did have the highest number of dialogue-free scenes. Half of Joker's scenes featured no lines at all.
That's actually low compared to the average — 64% of scenes from Best Picture winners do not include dialogue.
Once Upon a Time… in Hollywood.
Three of the last twenty Best Picture winners have had a strong Hollywood subgenre, so we were sure Once Upon a Time in Hollywood would be a Best Picture Nominee.
What film script analysis should we do next?
Did you enjoy our analysis? Which film would you be interested in us writing about next?
With AI script analysis we can breakdown a script and predict its success: identifying all the necessary elements that build a story – on both narrative and character levels, we extract them as data points, and turn it into insights.
What's our next film analysis that you'd like to see?
Schedule a free demo today and learn more about AI script analysis!