Parlez d'IA? AI Dominates the Conversation at Cannes
Arriving at Cannes in the midst of a writers strike, I wondered how much the debate over AI would permeate the festival. A few weeks before the strike commenced, I talked with a group of WGA members about our product and AI in general and heard their concerns firsthand.
Was I about to walk into Killers of the Flower Moon?
Four days later, I had my answer. As I was leaving my last event, a MarketWatch reporter asked whether or not I thought it was young people, or those early in their career, who are more likely to adopt this kind of technology? While this may be the general consensus, it's the opposite of what I experienced this past week in Cannes.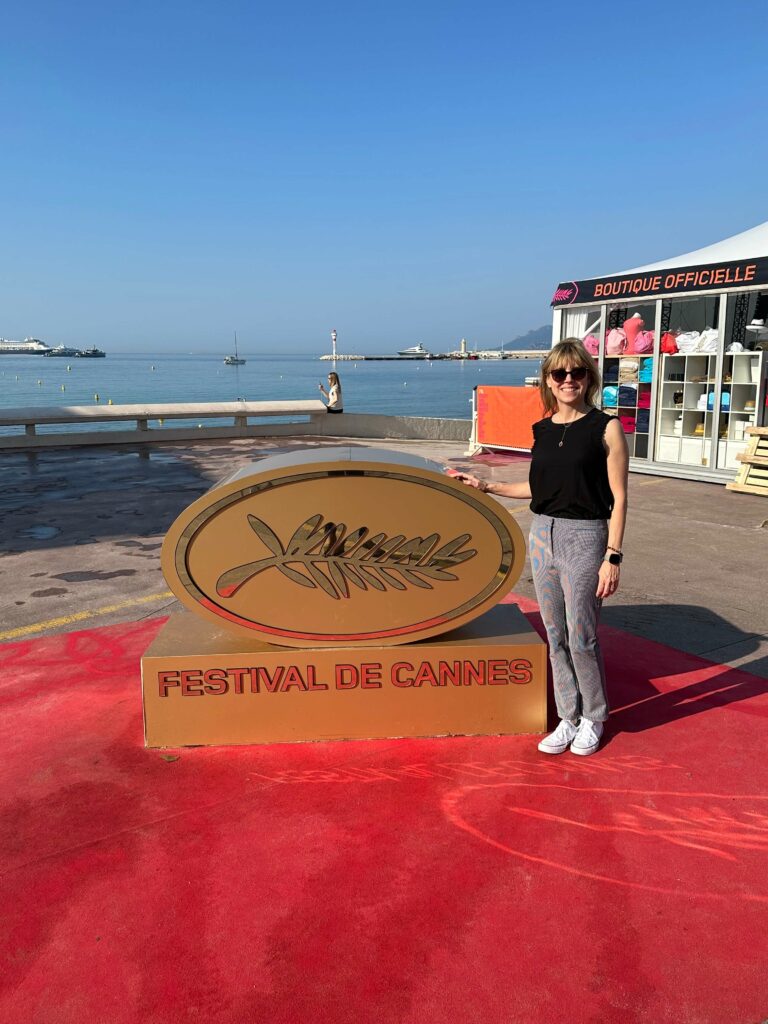 Over and over again, I was drawn into conversations with creatives of all ages who were open, interested, and wanted to understand their technological options. The creative exploration and inquisitiveness that I witnessed here (from people with multiple films under their belt– not fresh out of school as the assumption goes) is exactly the approach that leads to groundbreaking originality in films – from all ages.
The best compliment I heard was "you're just a tool." No, really it's a compliment!
That's because StoryFit can bring out the best in creatives by being a consistent and clear feedback loop. We do that by delivering predictive AI insights on scripts, effectively combining creativity with technology to create stories that resonate with audiences everywhere.
Another theme I heard across the festival is the idea of using AI as a creative co-pilot. Most are seeing increased productivity – more and better—versus a reduction in people power. One well-known director mentioned that with the increase in technology across his career, he has found that it continues to take more people, not fewer, to make a movie (especially as budgets and movie scopes continue to grow).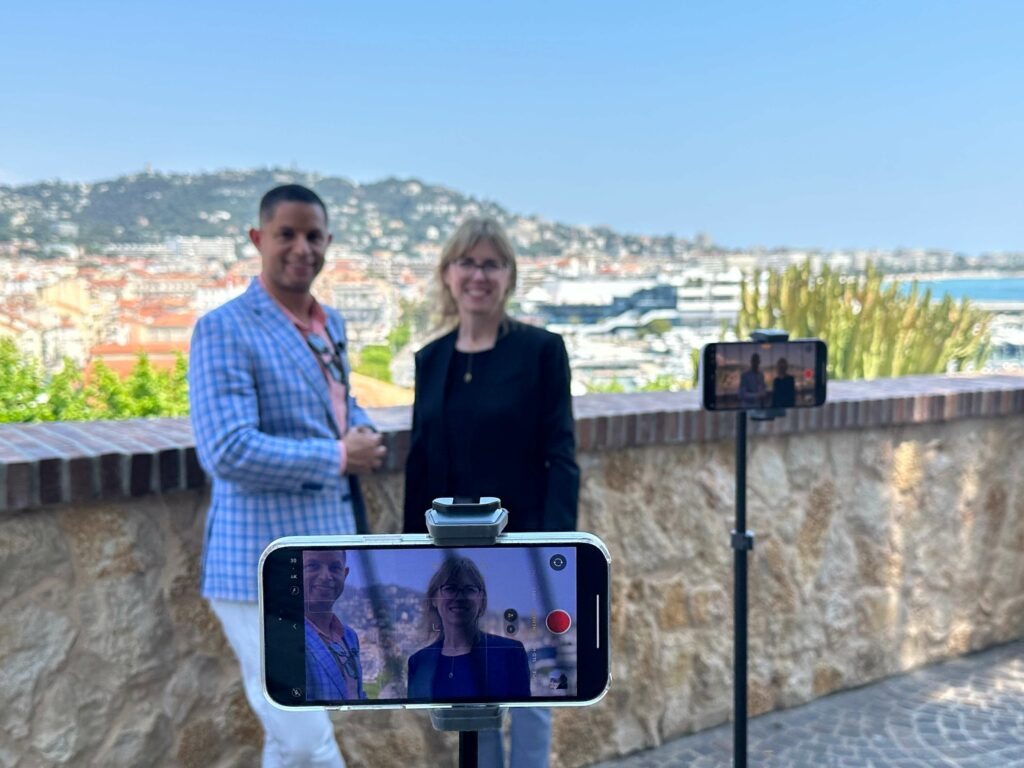 This idea of partnership reinforces that technology grows to meet writer's needs and creatives find ways to execute their visions in this ever changing media landscape through collaboration.
Roman Jáquez (pictured above) and Grant Bradley are actively featuring StoryFit's powerful benefits in their Master Class on film financing and deal making. Emphasizing the comprehensive approach and benefits to managing budget and deal structuring for films in development is just one of the ways we can adapt to an increasingly AI environment.
In general, everyone I spoke with seemed much more knowledgeable about AI. A year ago, StoryFit was often lumped in with generative AI, and it seems that people understand the distinction better (I wrote about this idea recently in Fast Company).
It doesn't take a StoryFit analysis to tell you that a script written by generative AI is not ready for primetime, and in the past that very idea shut down some creatives to any AI impact.
Part of the evolution in conversations I saw was a newfound openness to using AI as a "tool" that could streamline efficiencies, deliver otherwise impossible data, and support, not supplant, creativity. It's imperative they remain a part of the conversation surrounding the future of this technology and its goal of acting as an ethical resource.
CogX's Cinema & AI – The Power of Possibility, an event designed to explore the vast potential of AI in film and television, elaborated on these same ideas. The panel, although disappointedly all male, featured several creatives in the industry. A creative's description of himself as having digital awareness, but an analog soul garnered a lot of agreement from audience members. The general consensus from the event was that creatives don't need to give up on originality – in fact the opposite.
One panelist even recommended hiring an AI expert now to make sure you don't miss out on all that's happening. He said waiting a year to do this would be too late. Another talked about AI's impact on his upcoming film.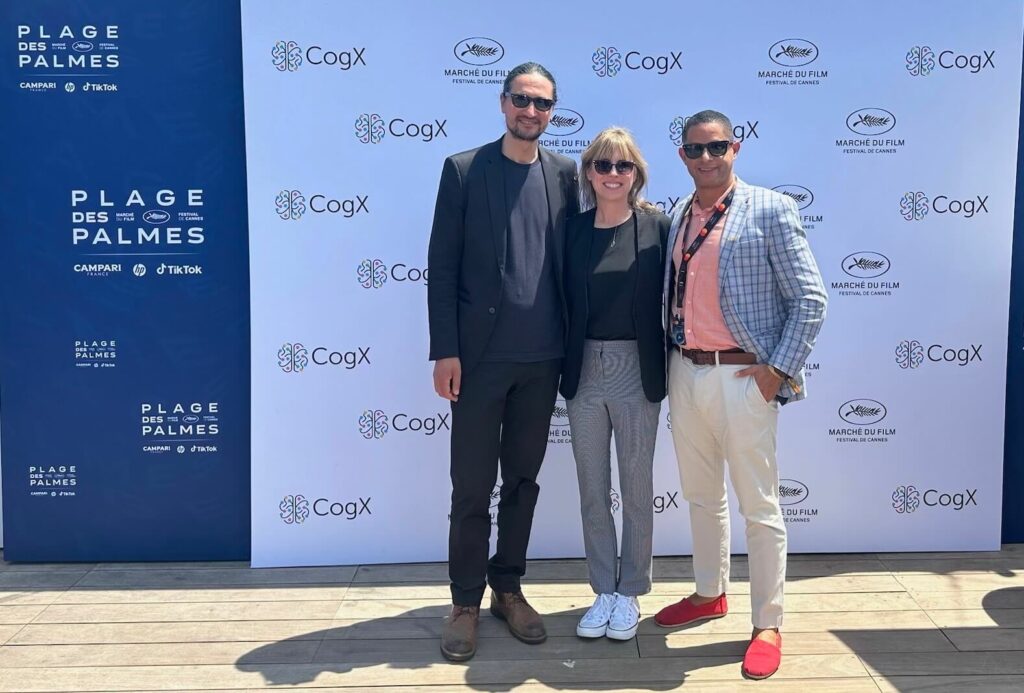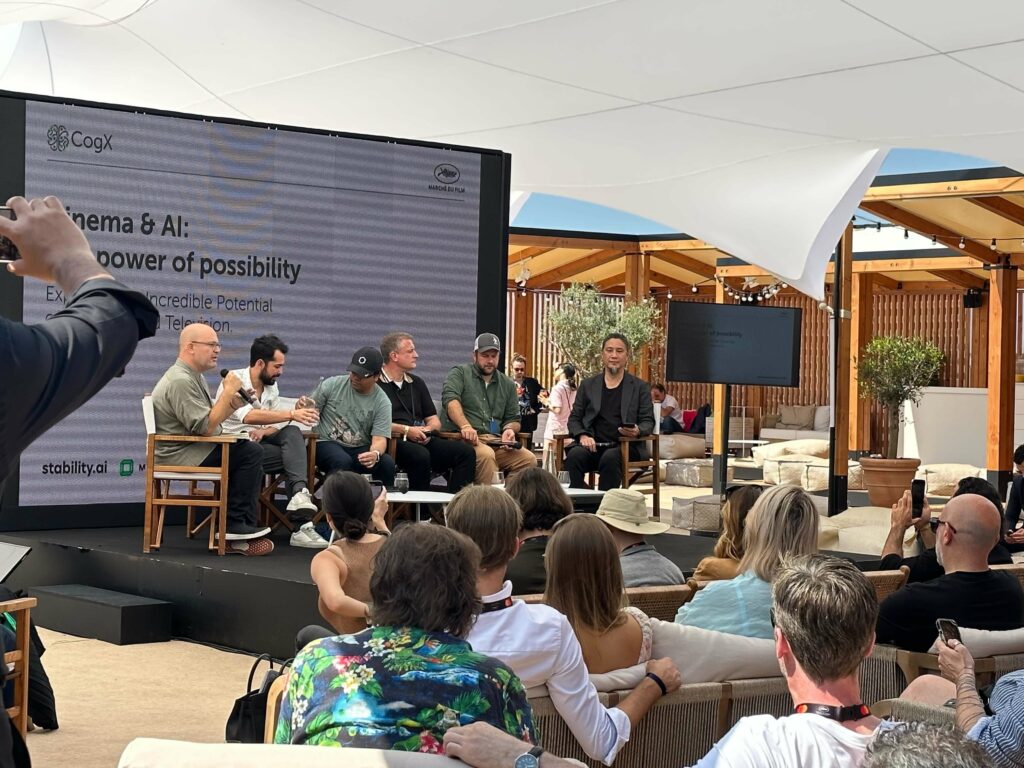 These optimistic perspectives on AI continued during StoryFit's happy hour, hosted for independent filmmakers at a nearby pub. While we work primarily with larger studios, we want to make sure that we re-package our product offerings so they are both affordable and impactful for all kinds of creatives in the filmmaking space.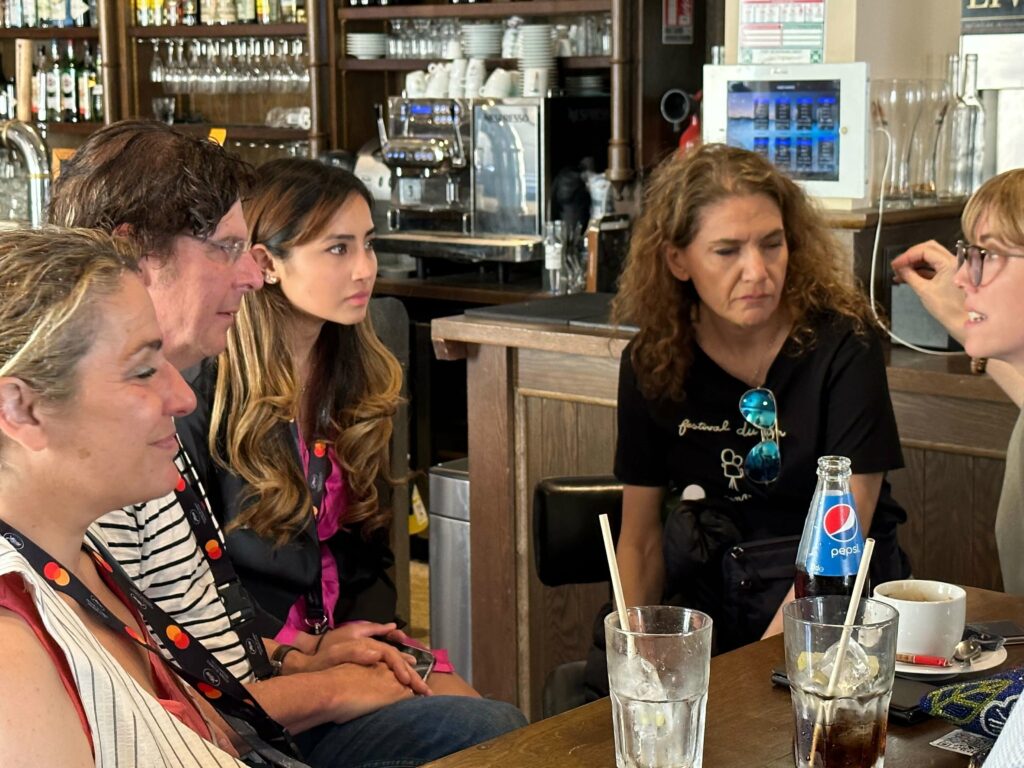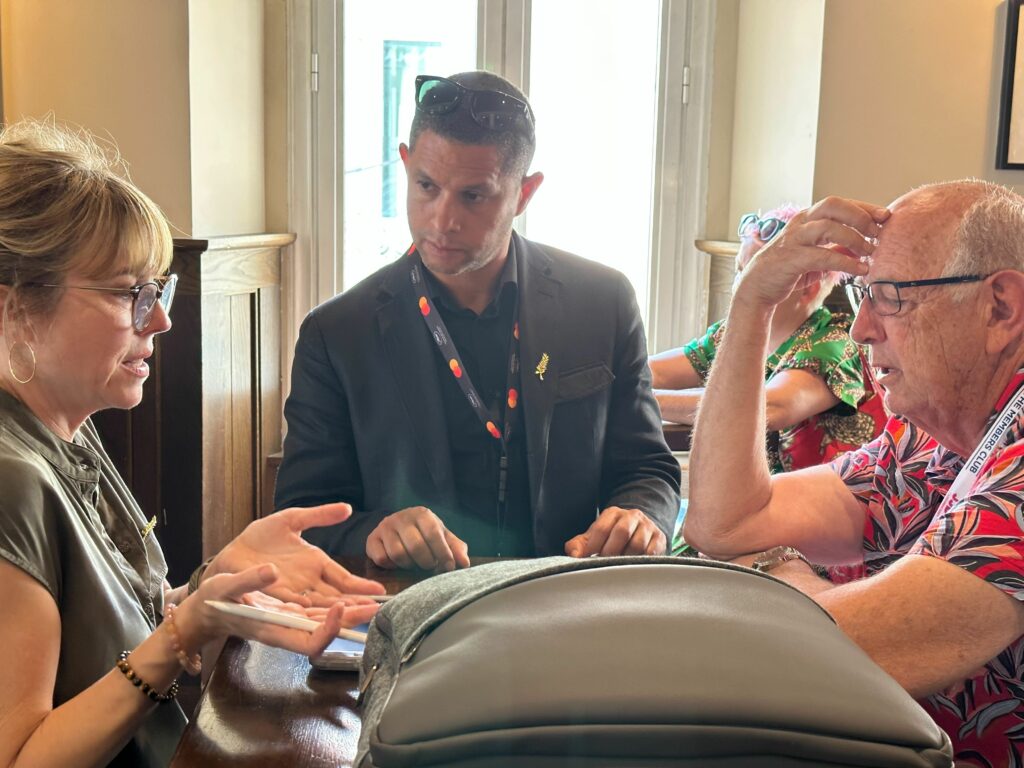 It was like a shot of inspiration to hear firsthand from the filmmakers about their projects. I'm just so thankful that they're open to having these meaningful exchanges about how AI could be integrated into their process.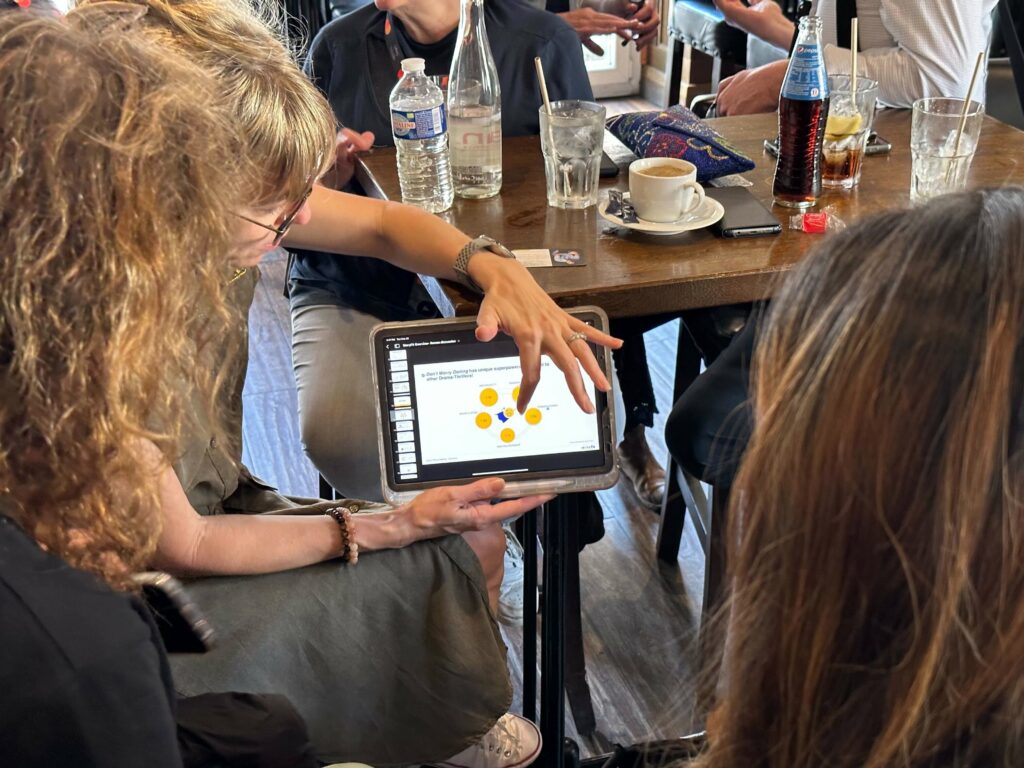 I'm leaving Cannes feeling energized by the conversations. StoryFit could not be more excited to be at the forefront of this AI revolution and have the opportunity to work with writers, filmmakers, and creatives who constantly better the ever-changing entertainment industry.
I remain grateful to the filmmakers who entrust us with their scripts. It is always a privilege to be a part of their magical process.
We can't wait to see where this journey takes us next.