Vice Is a Cinderella Story? AI Finds 5 Surprising Insights about This Year's Oscar Nominees
It probably won't blow your mind to learn that the characters in Black Panther are objectively more complex than the ones in Mary Poppins. (More on both films in a moment.) But sometimes, artificial intelligence can spot things we otherwise might not.
Here are five of our favorite insights StoryFit's AI-driven software gleaned about this year's Oscar nominees:
"Vice" is a classic Cinderella story.
As Kurt Vonnegut once described in his autobiography / thesis "Palm Sunday," when you map the ups and downs of plot arcs, it becomes clear that stories tend to follow a handful of patterns. Today, there are six archetypes story maps tend to fit into: Rags to Riches, Riches to Rags, Man in a Hole, Oedipus, Icarus, and Cinderella.
Our software showed that Vice was a classic Cinderella story with a rise in the main character's fortune, then a steep fall, followed by a sharp rise again. Dick Cheney may be surprised to hear his life story has so much in common with this classic fairy tale, but if the glass slipper fits…
2019 Best Picture nominees represent a balance of archetypes.
Speaking of the six story archetypes, this year's Best Picture nominees represent the full range. In 2016, the leading archetype among Best Picture noms was Rags to Riches. It then shifted in 2017 to Cinderella, before settling on a tie between Cinderella and Riches to Rags (2016's opposite) this year.
But perhaps even more interestingly, this year has by far the most balanced distribution of storylines we've seen in recent years, with every archetype represented in practically equal measure.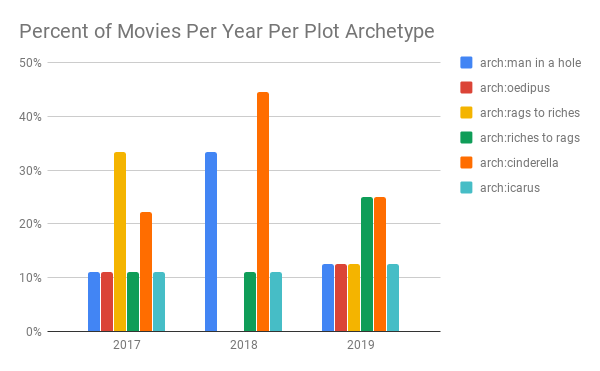 Mary Poppins is not the center of "Mary Poppins."
She may be the title character and have the largest share of dialog, but Mary Poppins plays a balanced role in her story. As a matter of fact, so do all of the characters.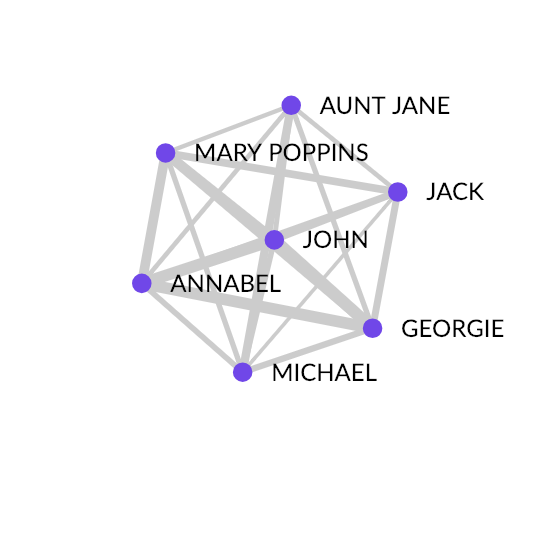 Just like her, Mary Poppins' character network is practically perfect in every way. It's one of the most balanced character networks we've ever seen. Character interact almost equally with one another, and the male/female ratio is a perfect 50-50.
4. Black Panther's female characters set a new standard for complexity.
Black Panther may be a male superhero, but the world of Wakanda rests on the backs of three male and three female leads.
The main female characters are powerful women with varying interests: Okoye, the Captain of the Guard; Shuri, a scientist/princess; and Nakia, a social activist. But more than just being defined by a strong career choice, they show a diverse range of powerful emotions throughout the story.
In addition, two of the three are "expressive" — a rare personality profile for female characters, even in the Marvel universe.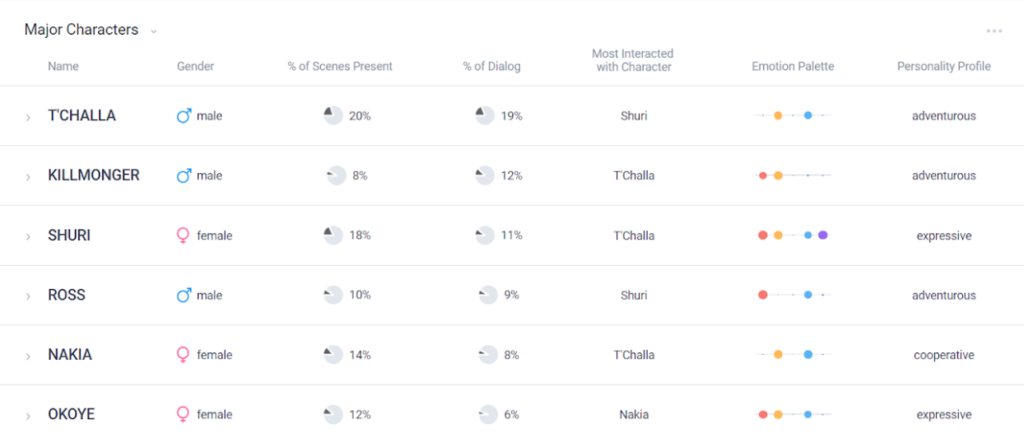 For perspective, compare that to the character breakdowns for Mary Poppins, where every character demonstrates only joy or sadness and are all considered "cooperative."
5. Music and biographies are getting love this year; thrillers have fallen out of favor.
When it comes to Best Picture nominees, it's a very good year to be a music or biography film (or both), with major noms for "Green Book," "Bohemian Rhapsody," and "A Star Is Born."
But thrillers had a tougher time, nosediving to nothing after being by far the best-represented genre last year when "The Shape of Water," "Get Out," "The Post," and "Dunkirk" all received Best Picture nods.
Action and adventure continue to be low on the list, while comedy saw a small lift this year.
Want more Oscar insights? Check out our other blog post: https://storyfit.com/blog/anger-disgust-ai-shows-emotions-run-higher-than-normal-in-this-years-oscar-noms/