Character Research for a New Age of Storytelling, Watch Now!
"Each writer starts differently, but the only valid way is start with character. Character IS plot. Character IS story." –Eleanor Perry
Great characters are memorable, dimensional, and distinct. They not only move the plot and story forward but they also leave a lasting impression on both creators and audiences alike.
Chances are, you have a specific character in mind when reading this text. What stands out to you most about them? Is it their relatability? Their complexity? Or perhaps, the way they speak to and interact with others that defines their intrinsic and compelling qualities.
Great characters teach us about ourselves, and share lessons that we can learn to create better stories. They are relatable, flawed, and oftentimes reflections of the people we surround ourselves with.
They are the heart of what transforms a good script into a great one.
When translated to the screen, you would be hard-pressed to find a successful movie that doesn't also have dynamic major and minor characters.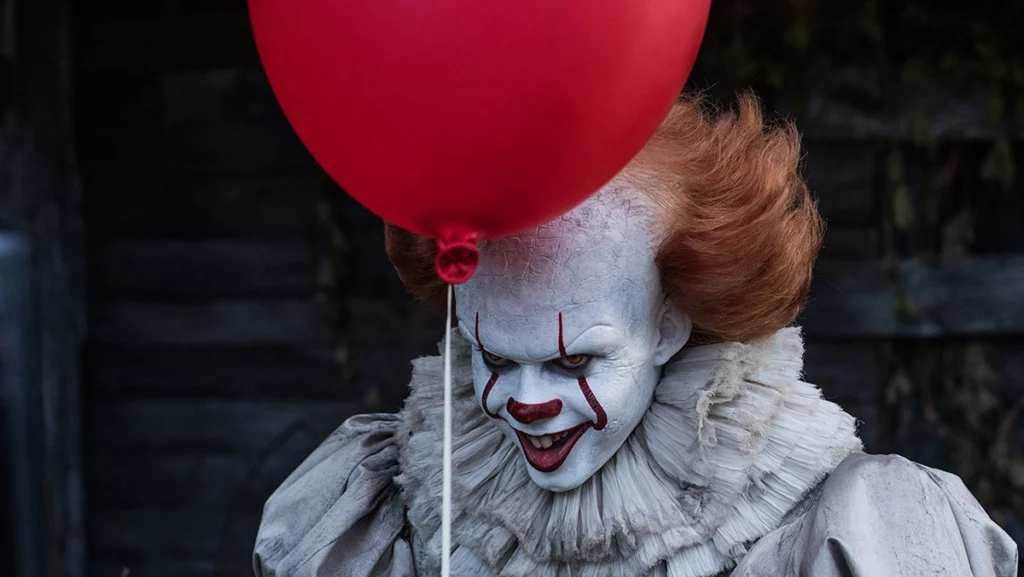 When we were thinking about the topic for our next webinar, understanding what makes memorable characters was at the top of our list.
The Data Behind Dynamic Characters
Powerful characters are essential to story success, and many storytellers aren't aware of how data and character analysis can be used to measure representation, personalities, interactions, and more.
Our findings also suggest that frequent character interactions in specific genres (like Drama) have a significant impact on the success of the content.
Learn more about this idea in our white paper report on it.
Plenty of research has been done on characters individually and what makes them successful on a singular basis, but we were interested in how interactions and the network between characters bolster their success on a more holistic level.
Once we had the topic, Rob Lewis, P.h.D. and StoryFit's Media Psychologist, decided to dedicate the month to researching character interactions and how they correlate with box office and episodic success.
He was especially curious about the Drama genre because it is currently dominating serial productions, and knew instinctively that complex characters drive those series.
What other components to a story (using data as a backdrop) could signal what makes a Drama successful? The answer lay in character analysis.
Character Network: The Dark Knight (2005)
As you can see from our Character Network representation of the Joker in The Dark Knight, a great deal can be visually understood by looking at a character network.
Character networks offer a new perspective on who is occupying the most screen time and which relationships are most central in the story vs. which are minor characters.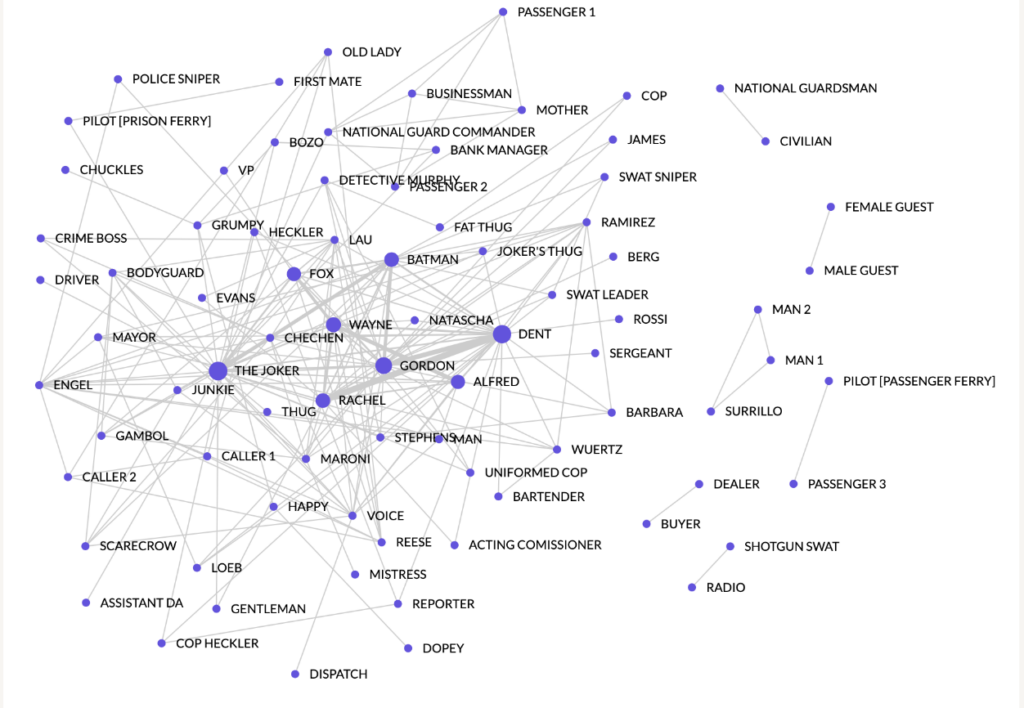 StoryFit's Character Network is an elaborate visual mapping process designed to analyze this very component. From this network, we can visualize and also quantify the following:
# of major characters (any character is considered "major" with 10% or more of dialogue as marked in the script)
# of supporting characters (between 4% and 9% of dialogue)
# of minor characters (3% or less of dialogue)
Centrality, which measures the percentage of shared interactions between characters. A lead with a high level of centrality is more likely to be considered strong
% of scenes a character appears in vs. % of scenes they speak in
Characters that interact the most together – a sufficient way to determine important relationships to the script and identify if they are aligned with the writer's intentions
Rob's findings on how the complexity of character interactions correlate with success are unique in that they hold regardless of budget or runtime.
As part of our ongoing webinar series, we got multiple researchers and thought leaders together to talk about how data can help storytellers think in new ways, make smarter decisions, and inform their instincts – so we knew we needed to find additional panelists.
Rob suggested that we include Matthew Grizzard, a fellow Media Psychologist, and Ohio State University Professor. Rob thought Matt's research on character likability and morality was groundbreaking.
Character Likability and Audience Enjoyment
Character analysis will tell you that character likability is inherently tied to audience enjoyment. A story is never going to be successful if you can't get your audience to care about the characters you've created and what happens (or is about to happen) to them.
But where does character liking come from? This is a question that has spurred a ton of academic research. Contrary to our beliefs, the answer does not lie in the most obvious of speculations. Rather than it being correlated to similarity, competence, or character warmth, researchers found that morality dominates character perception.
In other words, morality predicts which characters we're going to like and which ones we will go on to dislike. This is true in the real world as well.
Morality is not unidimensional (good or bad). Research and moral psychology shows us that morality can be composed of different foundations which are the building blocks of our moral judgments. If you're struggling with this idea, think about it as the different ways to make a character liked or unliked. You can make a character:
Care or Cruel
Fair or Unfair
Loyal or Disloyal
Respects Authority or Lacks a Respect for Authority
Pure or Impure
Matthew reiterated that it's the mixture of these foundations that is particularly interesting.
Too often writers will make their heroes high on all these foundations and their villains low on all these foundations, but it gets really interesting when you have protagonists and antagonists that uphold some of these foundations while violating others, with perhaps protagonists remaining more so on the positive end of the spectrum.
Matthew's specific research has produced a psychometrically valid measure of character morality through the Affective Disposition Theory of Drama.
He uncovered other surprising results about how character inter-dependability positions them morally and how this affects audience reaction and character appeal, especially as it relates to thinking about them holistically.
But using these theories, why then would we be drawn to and interested by certain characters that, in reality, we would be wary of (like Tony Soprano and Walter White, for example).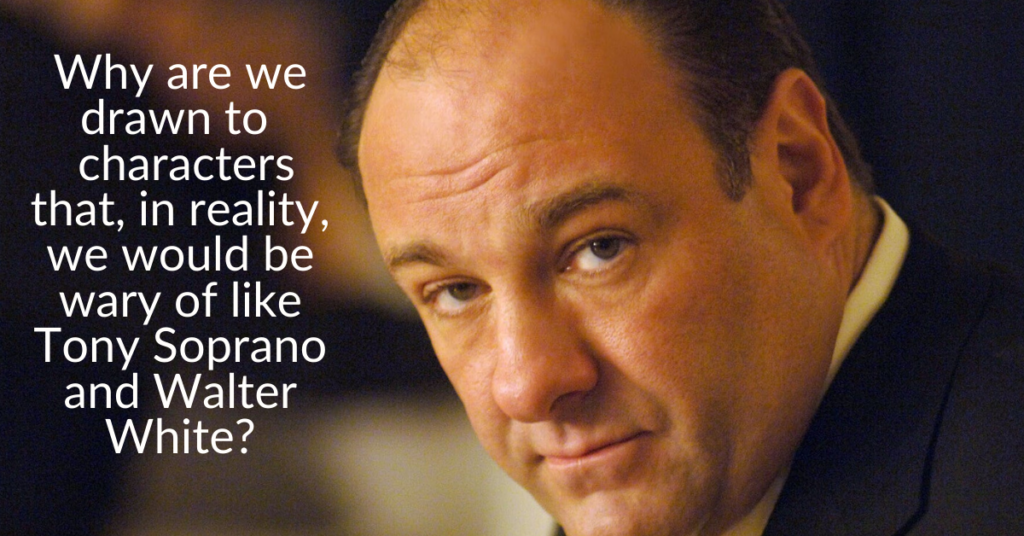 Let's use Walter White as a case study:
When we are first introduced to his character's background, we're not introduced to a ruthless and immoral person. He is depicted as a devoted father and passionate high school teacher.
His descent into immorality is accompanied by a similar descent amongst his foils. They move from low level meth dealer to unpredictable psychopath to calculating sociopath to eventually a neo-nazi.
Every time Walt gets worse, so does the primary antagonist. Throughout this process, Walt, while becoming objectively immoral, is always better than his nemesis.
We describe this relationship of the relative morality between the protagonist and antagonist of a story as character interdependence.
Character analysis will show that judgements of a single character depend on and are contextualized by the other characters' presence in a narrative.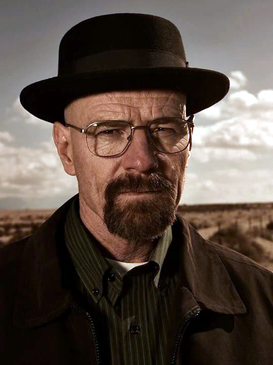 A morally neutral character (that is one who does both good and bad things) is judged to be highly moral and liked when paired with a worse character and highly immoral and disliked when paired with a better character. 
The context of the Character Network can amplify even minimal differences between otherwise similar characters.
A character like Walt can also be measured based on his dynamic character traits.
If you take a look at the chart below, Walt's characteristics are placed into three categories for his character analysis:
Appeal
Ability
Complexity
In each of these categories, a clear story is being told. Walt captivates us with his compelling traits in the pilot, with consistent markers that maintain audience interest and "forgiveness" (Likable, Authentic, Competitive).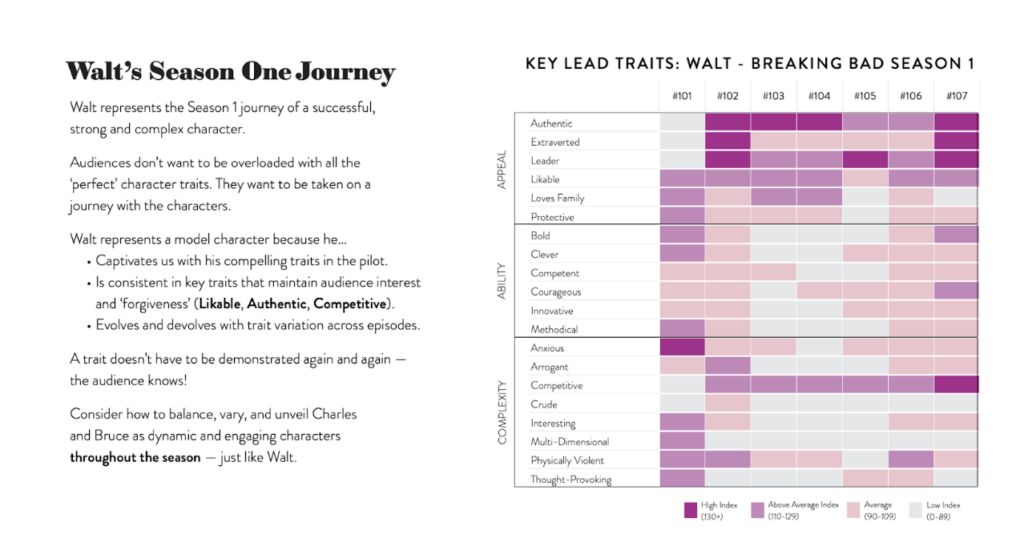 While some of his traits devolve, this is crucial to his Season 1 journey and his character's history. For example, he becomes less Anxious and Physically Violent over time, but ends strongly with Bold, Courageous, Extraverted qualities – characteristic of a Leader.
Learn more about character traits and its connection to storytelling in this character analysis write-up.
Character Development in Character Analysis
Finally, Jeff Gomez, CEO and trans-media producer at Starlight Runner, agreed to join the panel to speak about character analysis and character development.
His experience working on blockbusters like Avatar, Men in Black, and the Pirates of the Caribbean franchise puts him in a league of his own. This expertise on world-building makes his perspective on how data can inform character growth unique.
Jeff discusses a new narrative model in character analysis that many of the top-streaming and premium network blockbusters have in common.
We'll give you a hint: the classic storytelling narratives that we've relied on for so long are no longer serving us in this new age of digital media.
Here a couple of quick bullets about what you will learn during this 1-hour webinar:
The factors that influence the likability of characters, and why looking at them as interrelated rather than individually matters.
How complexity in character social networks correlates with box office and viewership success, especially as it relates to the most popular streaming category, Drama.
Why global audiences are rejecting some classic storytelling elements, and what new character dynamics are being embraced through character analysis.
The surprising effects uncovered in character analysis by researching character morality, and why we need to think about characters holistically.
How there is room to optimize budgets by focusing on innovative storytelling.
How producers and studios are backing up their instinct with data to inform their decision making.
At StoryFit, we use hundreds of proprietary AI models to measure thousands of story components at the same time. Scripts are ingested in our AI engine and are measured against the thousands of other scripts we have within our database to analyze where it indexes in its intended genre.
Not only does this process deliver interesting findings about the overall strength of an idea or story, it accounts for all components of a script, providing a full story and character analysis to predict how audiences might respond to any particular character.
All of this data helps us see the true value in a script so writers, creators, or executives can get a better understanding of how it will do and what their next steps should be to ensure a box office success.
Have questions? Contact us! Want a character analysis for your story? We're here to help.