A Revolution in Entertainment Analytics: How Data is Changing the Industry
The entertainment industry has always been driven by creativity, artistic vision, and technical innovation.
In recent years filmmakers and entertainment companies have witnessed a growing shift in the way multi-million dollar decisions are made in regards to which projects to green light, or what content will resonate with audiences. 
Streaming services like Netflix and Hulu have changed the marketplace by offering viewers copious amounts of content, with data primarily driving their decisions.
With the advent of digital technologies, streaming platforms, and social media, an unprecedented amount of data is now available for analysis.
This encompasses everything from viewership metrics, genre/thematic taste, to audience demographics and sentiment analysis.
Opening up a wealth of opportunities to extract valuable insights, data can ultimately transform the success and business performance of many movies and TV shows.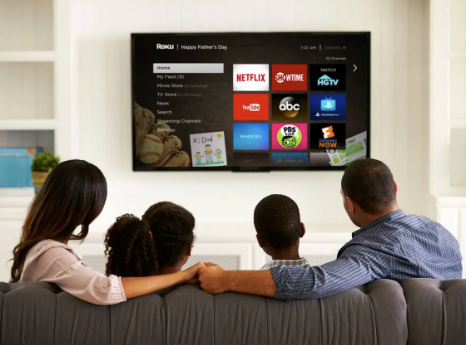 In this article, we will delve into the fascinating landscape of entertainment analytics to explore how revolutionary companies like StoryFit can leverage this kind of big data to simulate audience responses – producing powerful predictive insights earlier than ever before. Yeah, you heard that right.
Data is Your New Best Friend
Entertainment analytics hasn't just changed the way production companies produce and create content for viewers – it has also changed the way they think about those viewers.
Appealing to audience interests has always been king, but with the increase of public information made available to entertainment providers (i.e. big data surrounding viewing habits, taste preferences, trends, etc.), these kinds of resources have never been more accessible or important for business growth.
The only problem is this kind of data analysis can be both time consuming and costly to do in-house, prompting many studios and networks to seek outside support.
Enter StoryFit.
Using an AI engine built off of 100's of proprietary models to measure 100,000+ character and story elements, StoryFit applies these elements against billions of audience data points to deliver story intelligence for pre-production scripts.
Not only does this produce powerful predictive insights, it uncovers what makes a story tick, highlighting the unique story and character components of a script, as well as simulating audience responses to deliver insights that maximize revenue and resonance.
Let's take a look at what this kind of analysis looks like for a fan favorite like FX's, The Bear.
Don't be confused. This kind of story intelligence is nothing like the content tagging processes streaming platforms utilize to cater toward audience interests.
Recommended content that is generated from a platform's algorithm can be hit or miss – not StoryFit. Our data is based on true predictive audience sentiment rather than keywords or tagging. This changes everything.
Let's explore the ways StoryFit utilizes audience data to change the landscape of entertainment analytics.
Audience Analysis
Who Is My Audience?
In the entertainment world, audience is everything, which is why media and entertainment companies spend countless dollars trying to figure out who these people are and what they enjoy watching.
StoryFit's predictive audience insights allow studio executives and creators to get answers to these questions earlier than ever before.
Applying social engagement monitoring, StoryFit can analyze a script's audience potential to determine the demographic breakdown compared against the genre audience.
By generating a full age composition, media companies can get a realistic idea of what their audience looks like and how their script compares against the audience average for their intended genre.
Evaluating your target audience demographic includes uncovering what else your audience watches and why, as a result, they might be more likely to enjoy your story.
What Are They Watching?
Audience affinity is a key tool for producers and creators who are looking to both raise awareness and drive consideration for their script among groups that have demonstrated a shared love for that kind of story. It is also the leading indicator of what is distinctive or unique for your target audience.
For example, we worked with a studio that was creating a Comedy-Drama with an older female protagonist. The studio wanted audience insights in viewer preferences to help with their marketing efforts and campaign.
Learning what their audience also watched and the likelihood of their script resonating with these viewer demographics had a profound impact on their advertising strategy and distribution approach.
Let's take a look at the popular 2022 Drama-Thriller, Don't Worry Darling,'s audience affinity.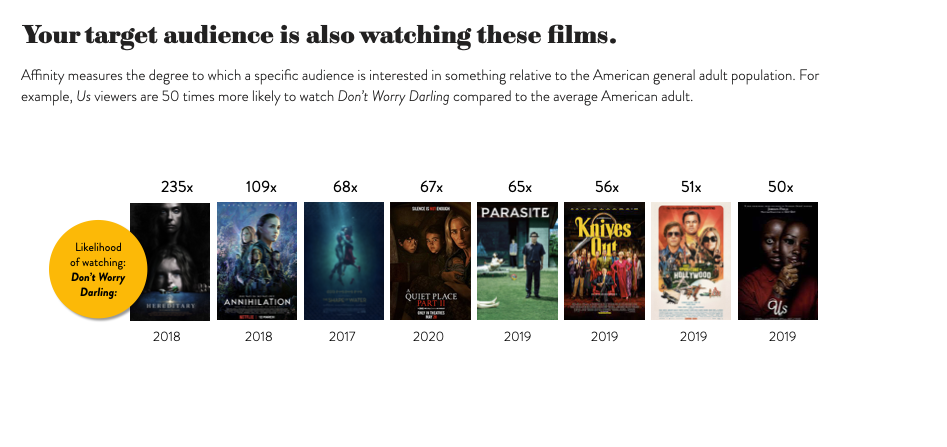 What Else Do They Like?
StoryFit can tap into a script's potential audience and identify the specific characteristics of viewers (what their interests are outside of their screen time) to give providers the most in-depth level of analysis possible.
This is helpful for digital media distribution platforms to discover which aspects of a script's narrative or characters they should highlight in advertising to appeal to the best audience. Tailored audience insights are the most reliable way to forecast potential viewership.
What Will Resonate Most?
Often touted as a crucial element for great stories, Emotional Intensity is a key data benchmark for audience resonance and viewer engagement.
Emotional Intensity refers to the level of a viewer's engagement or attachment to a story at a particular moment or time.
If a movie or television show exhibits high amounts of Emotional Intensity, it is more likely to result in higher viewer interest/response, thus making it an indispensable element in the entertainment business to predict success.
Emotionally intense stories have many moments that spike above or below what we call the "presence threshold," or level of viewer awareness. These peaks and valleys add to the overall audience's investment, working to create tension throughout.
StoryFit's story intelligence platform can register Emotional Intensity levels throughout a script to give creatives an idea of how their story will impact audiences before the content is actually produced or distributed.
To learn more about StoryFit's ability to predict audience sentiment, read this study.
StoryFit analyzed the Emotional Intensity of one client's title against two of its strongest comps to see where it measured up.
Even though the title exhibited a handful of intense moments at the impact level, it didn't come close to Wynonna Earp or The Handmaid's Tale's highly emotive storylines.
What characters will they be compelled to watch?
Audiences respond best to compelling characters, which is why character analysis can be a vital data tool in predicting success.
To learn more about the fundamental characteristics that make up an iconic character, read this article. You can learn more about character development and its relationship to dynamic storytelling in this white paper report.
StoryFit evaluates the strength of a character by using script data to measure a character's score – a compilation of their impact and prominent level traits.
Traits that index in the top 25% of all characters within the genre are considered prominent, while traits in the top 10% register at the impact level.
Strong characters are the foundation of good stories. A higher score is always better, as this character assessment correlates to the success of a film or series.
Characters that exhibit high character scores are what StoryFit refers to as reaching the Gold Standard. What do we mean by this?
A Gold Standard Character is the calling card for a series – their unique amalgamation of traits makes them interesting, which inspires viewers to become engaged and eager to follow along in their unique story journeys.
Regardless, characters that register as above average for their genre are sure to garner audience interest.
It's no surprise that Carmen from FX's award-winning hit, The Bear, is a strong lead for the series!
Conclusion
The incorporation of entertainment analytics in today's media landscape has dramatically altered the way studios and media and entertainment companies tell their stories.
Data insights into audience preferences, behaviors, and consumption patterns allow studios to better identify and target their desired audiences. By analyzing this kind of information, they can make informed and strategic decisions about content creation.
StoryFit's predictive AI insights streamline this process, helping to provide the right kind of audience analytics, so you can continue to highlight the stories that inspire you and put them in front of the audiences who want to hear them most.
Learn more about how to get started with StoryFit today.
Have a mountain of scripts and unsure of where to start? ScriptCheck can help.